Audio Augmented Reality

Virtual waypoints are placed in the real world around you

Spatial Audio

You can hear the waypoints as if a friend was calling

Navigation by Hearing

Follow the sounds until the destination. Simple and hands-free
The waveOut app
"Our mission is to make navigation easy for everyone."
Our navigation app runs on a smartphone and is currently available for iOS. Headphones are needed to hear the waypoints. Even though we use spatial audio, any headphones model will work. For the best experience, we recommend open headphones so you are always aware of the world around you. For an amazing experience we will support selected hearables. Stay tuned!
Behind the scenes

An intuitive experience requires that the virtual content is displayed flawlessly to the users. We use state-of-the art computer vision methods to determine the location of the user within the world. We take the latest augmented reality toolkits, global positioning advances and machine learning methods, combine them with some magic and obtain the position with incredible accuracy.

Spatial audio

Spatial audio simulates the way people naturally understand sound locations. When a phone rings, or a friend calls, you immediately turn your head. Spatial audio does the same and we use this to help you find the next waypoint in the easiest way.

Holistic solution

Our app integrates all the features necessary to help you walk on the street with confidence and ease. You'll never again need to switch between different apps while navigating.
The waveOut web planner
Created to make a difference in your route planning.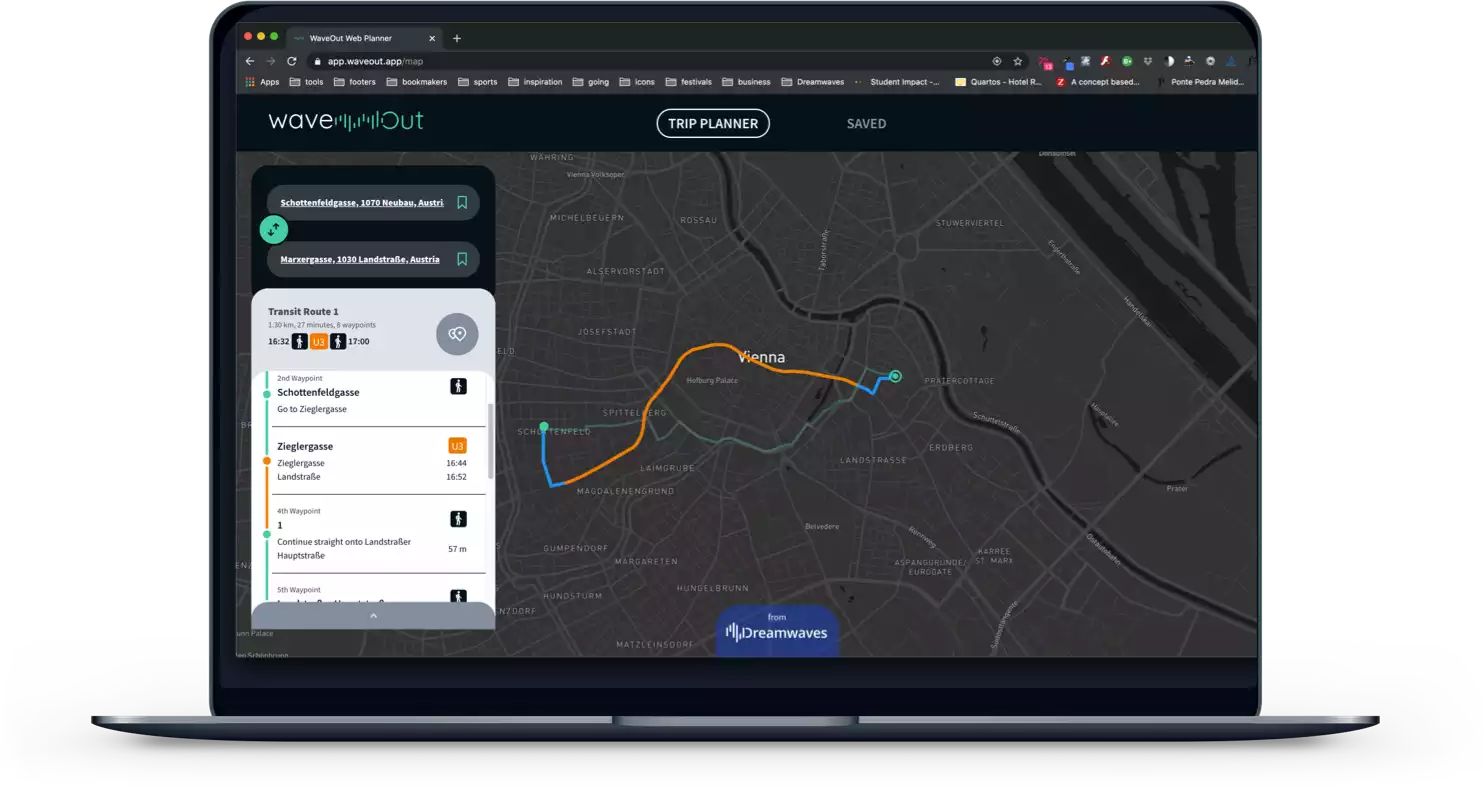 Plan your next trip easily and comfortably online.
Save it on your account.
Start that route in waveOut mobile later.
You can also save your favorite places, they will be synchronized and live in your account.
Our main features
Thought to make your life easier.
Outdoor Navigation

Virtual waypoints are placed automatically along the path you need to follow. The waypoints are connected with the real world but only exist in the app: your reality is augmented.

Hands Free

The waypoints can be heard naturally with spatial audio: simply follow the sounds you hear. No need to look at the screen.

Hear the obstacles

Spatial sounds can be assigned to obstacles along the way. Making you more aware of what to avoid.

Familiar routes

We will take you as much as possible through places and routes you already know.

Avoid challenging locations

Avoid going through crowded places, large squares or construction sites.

Increased awareness

Hear a description of shops and other points of interest around you as you walk
Product Instructions
Meet the team
"We are an interdisciplinary team of experts and we believe that advanced technology should be easy to use and have a strong positive impact on people's lives."
Hugo Furtado

.

CEO

Hugo has been a researcher in the field of medical augmented reality and Computer Vision for over 10 years. He is also passionate about spatial audio. He conceived and implemented the original idea for Dreamwaves.

Liliana Calapez

.

UX

Liliana is a Communication Designer with a degree in multimedia and communication design and a technical specialization in graphic design. She has over 10 years of experience in product design and online marketing agencies.

Alessandro Mulloni

.

CTO

Alessandro is a passionate designer, developer and user of mobile tools that make life easier. He has been creating interactive mobile experiences for more than 15 years.

Elke Mattheiss

.

Data Science and Analytics

Elke is an experienced UX researcher and data scientist with a degree in psychology and software engineering. She has applied quantitative research methods for over 10 years, partially with focus on navigation as well as accessibility for people with visual impairments.

Lukas Zimmermann

.

Machine Learning

Lukas is a biomedical engineer who worked in the field of medical physics and computer vision for over 5 years. His research focused on the utilization of deep learning models to extract meaningful and valuable information from medical images.

Alexandra Nitzlader

.

CFO

Alexandra is a corporate finance and venture capital expert who has worked for over 25 years in banks, private equity and venture capital companies in Germany and Austria. She is an Angel Investor with a passion for impact-oriented startups.

Bruna Cataldi

.

Content Creator and Community Manager

Bruna has worked in communications and content production in Europe and Latin America for the last nine years. She has a Master's degree in Arts and Media and is passionate about hope-based communications. Bruna aims to develop narratives that positively impact people's lives.
Partners
Supporting us along our journey!
Funded by seed financing from the BMDW and the BMVIT, handled by the aws.
Contact
Get in touch if you'd like to chat about how our product can impact mobility!